Annie Lynn, President and Chief Composer at  AnnieBirdd Music, LLC, began writing songs when she was 14 years old, while acting in Shakespeare's "A Midsummer's Night Dream" with the Germantown Theater Guild in Philadelphia. Asked to write "a nature song" by the show's director, Annie wrote "Listen," and the song and the show were subsequently filmed and shown on CBS. "I remember being this excited 14 year old kid, so psyched that the first song I had ever written was on TV," Annie reflects now. "If someone had told me that 30 years later, I'd be recording that song with my own child, I would have laughed! Now I have whole communities of school-aged children singing my own choruses back at me, and it really is a great feeling…." 
This same great feeling carries over into many of Annie's songs. Her children's singles, "That's All There Is," "Listen - a nature song" "STOP THAT! - A Bullying Prevention Song" and "New School" have been featured and favorably reviewed on the Peabody Award-winning children's radio program "Kids Corner with Kathy O'Connell" on Philadelphia's WXPN, with rebroadcasts on Sirius Radio. The songs remain in rotation. 
A Collaboration between Annie and songwriter/engineer/producer Chris Arms, recently produced a multi award winning CD called  "Annie Lynn, Chris Arms and Friends...No Time for Hate and other Songs for Schools."  This CD is ideal for schools, choirs and homeschoolers especially, and contains karaoke versions of the songs for assemblies, and offers youtube video links with practice videos and lyrics. 
 Topics include: 
* bullying prevention 
* tolerance and acceptance of others 
* identity and self 
* determination and motivation 
* going to a new school 
* nature conservation, including a new music video for Earth Hour! 
Annie & Chris hold 17 International Songwriting Awards, including most recently, Finalist in the Mid- Atlantic Song Contest for Kidlit song "Zombies Don't Eat Veggies" with Megan and Jorge Lacera (Studio Lacera/Lee and Low Books, Publisher) and GRAND PRIZE in the John Lennon Songwriting Contest for "Best Children's Song" genre. 
I won 80% of a recording studio (I had the rest), plus instruments, and became a full-service recording studio, complete with two sound engineers and a crew of talented musician friends and beautiful, funny, talented children. All are paid. All receive letters of recommendation. 
Annie also volunteers, time permitting, as a music assistant in her school district, and teaches her songs. She even took one elementary school choir to the Harrisburg State Capitol to sing her songs for the Senators and Representatives on an Environmental Conservation & Bullying Prevention Platform. 
Annie's music can also be heard featured on : 
*National radio   *podcasts   *cable/Network TV    *business websites 
*Book Trailers  *TEACHER GUIDES THAT GO WITH BOOK/TEXT  *Rodeo (YUP, you read that one right!) 
Her song, "The Key To My Heart," was licensed as music for an educational video to promote reverse-mainstreaming in Pennsylvania schools. The song instantly became the lynchpin for the entire effort, and generated a surprisingly large number of requests for copies from teary-eyed parents. 
Education: 
* Classically trained, B.S.ed with concentration in Music Education 
* University of Hartford, Hartt College of Music - CT 
* West Chester University - PA 
* Paralegal Degree: Main Line Paralegal - PA 
Before becoming a professional songwriter, Annie taught music in K-5th grade, in Pennsylvania. 
As a singer/songwriter, she performed in area clubs throughout Delaware, Pennsylvania, New Jersey and New York. 
Annie has also worked previously as a performer/educator for Prescription Music, a music education touring company dedicated to preserving traditional folk music. 
Annie is a proud, card carrying member of the: 
* Pennsylvania Music Educators Association (PMEA) 
* National Association for Music Educators (NAfME) 
* International Bullying Prevention Association (IBPA) 
* Children's Music Network (CMN) 
* Society of Children's Book Writers and Illustrators (SCBWI) 
Annie is also the mother of now 17 year old Alexander, (an honor roll student....can I brag, please?) a budding singer/songwriter, and frequent co-collaborator and touring partner. Alex is also the video producer and editor for all AnnieBirdd Music, LLC videos. 
 Cool Stuff and Awards: 
We're On Your Radio! 
Thanks to Sagan Thacker in North Carolina, at Radio Active Kids at Asheville FM 103.3; Grandfather Paul Stark at Musical Merry Go Round at KDHX 88.1 FM St. Louis; Paul Butler at Kids Crossroads  AND Imagination Parade at WFDU 89.1FM in NYC, Dave Loftin at The Saturday Morning Cereal Bowl Podcast, as well as Chloe's Friendship Circle, a  Podcast for Kids and Families, and Totsradio.com and RadioNursery.com for their generous airplay.  Also thanks to Stefan Shepard at Zooglobble.com for the nice review of "I Kept Your Present" Finally, thanks to "That Family Show" for featuring our song "It's Earth Hour" and helping us get those free song downloads out!  For Links to listen to these programs and reviews,  along with other talented Kindie artists...go to my links page
2023
January 2023 - August 2023
Away on Family and Medical Leave Act
September 2023:
Still recording and revising new songs with themes such as STEM/STEAM, and SEL (Social Emotional Learning) . I continue to explore additional formats for songs, that will lend themselves to Literacy gains. So far, the CALL AND REPEAT format has worked the best with lasting results.
I appreciate the Educators that reached out to me or answered back regarding what topics and themes would work well as a supplement to their lesson plans. In my opinion, I think Best Practices, are best reinforced by wrapping music around them. Less "naggy" that way too!
BE IN OUR MUSIC VIDEO!!!
WE WANT YOUR PHOTOS OF DIVERSE, MULTICULTURAL BOOKS FOR CHILDREN!!!
We're looking for photos of diverse kidlit/kidlitart books, preferably displayed by happy, engaged Students, Teachers, Librarians, Homeschooling, Educators & Families. Post YOURS for us to find, on Twitter (X) or Instagram w/tag #ReadYourWorldMusicVideo.  SEE BELOW……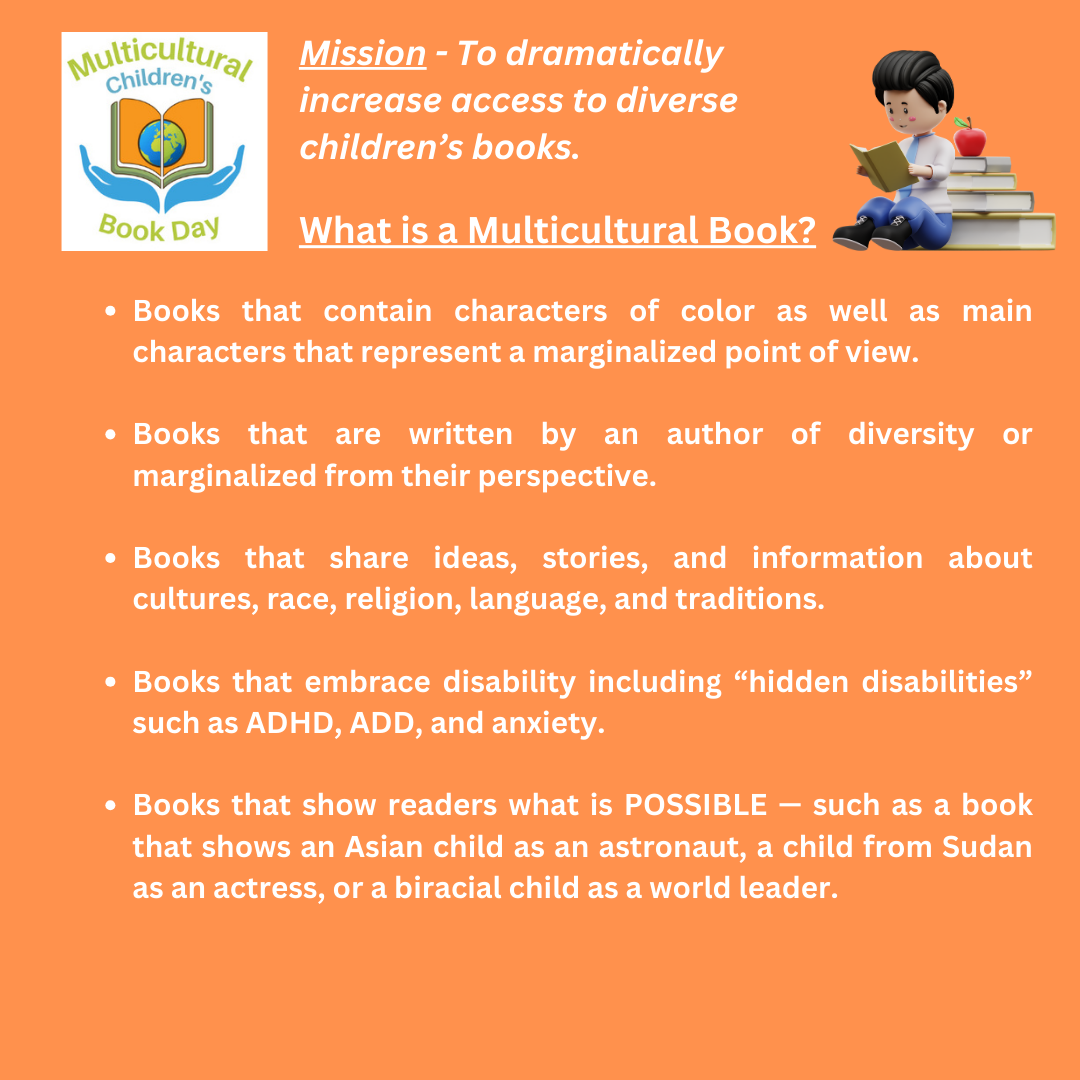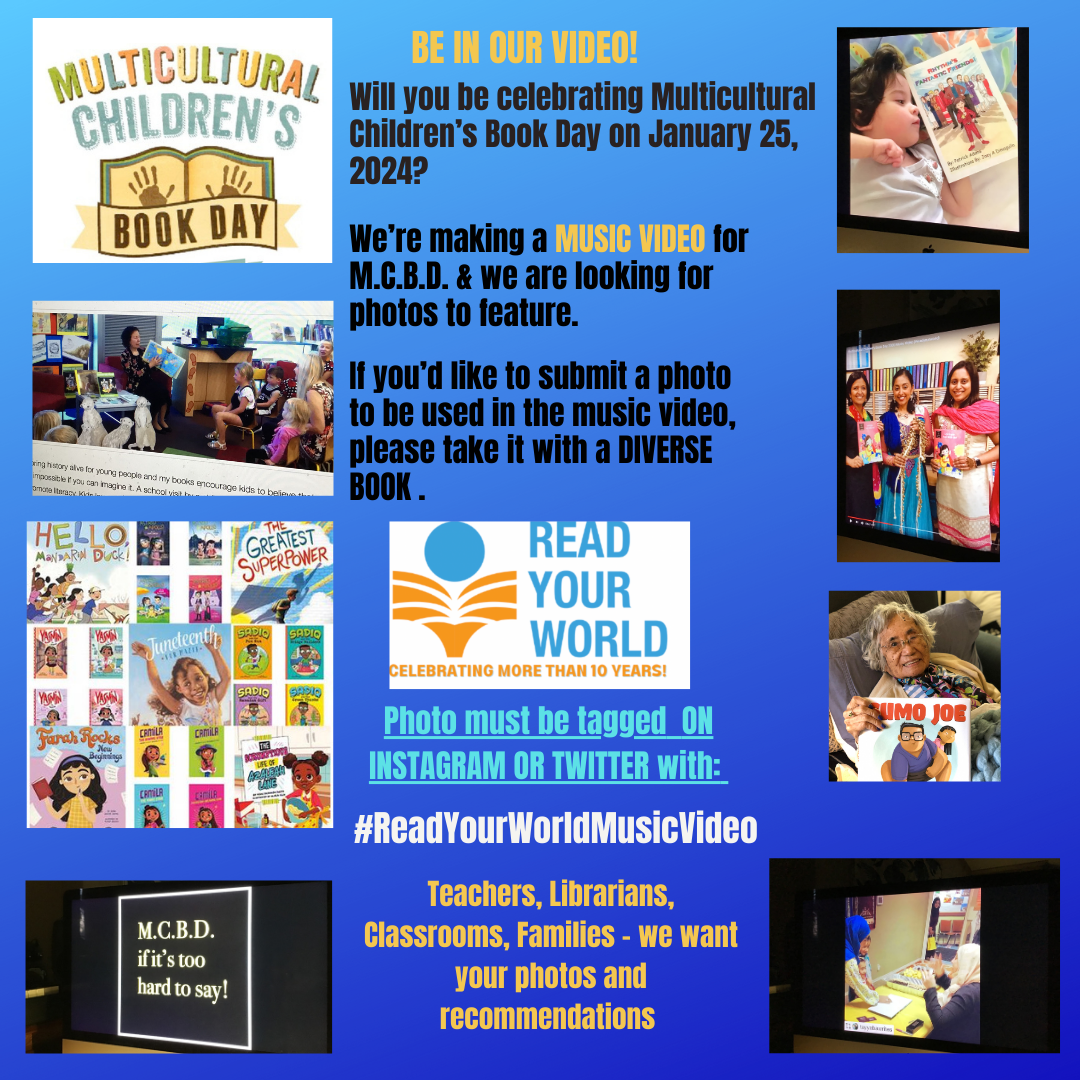 *** If you would like to get a head start learning the Multicultural Children's Book Day Theme Song, here is a lyrics video (from 2023) for you to use and share. Maybe the lyrics will give you some ideas for fun and interesting photos.***
August 2023:
It feels great to be creating regularly, and we are back in the studio. I'm continuing writing for the Educational Market and Kidlit Market (also Educational). I'm practicing with puppets again, preparing to make our next music video, and submitting to Children's Radio. 
I am interested in speaking with anyone who  wonders or thinks Music can elevate their lesson plan or product, (such as a song for a book trailer and use in Schools & Libraries.)   #Collaboration is always encouraged and welcome. 
Email me at anniebirdd@aol.com to discuss your project or ideas. Teachers, Homeschooling, Librarians & Authors/Illustrators/Publishers are my sweet spot, but open to hearing about all projects.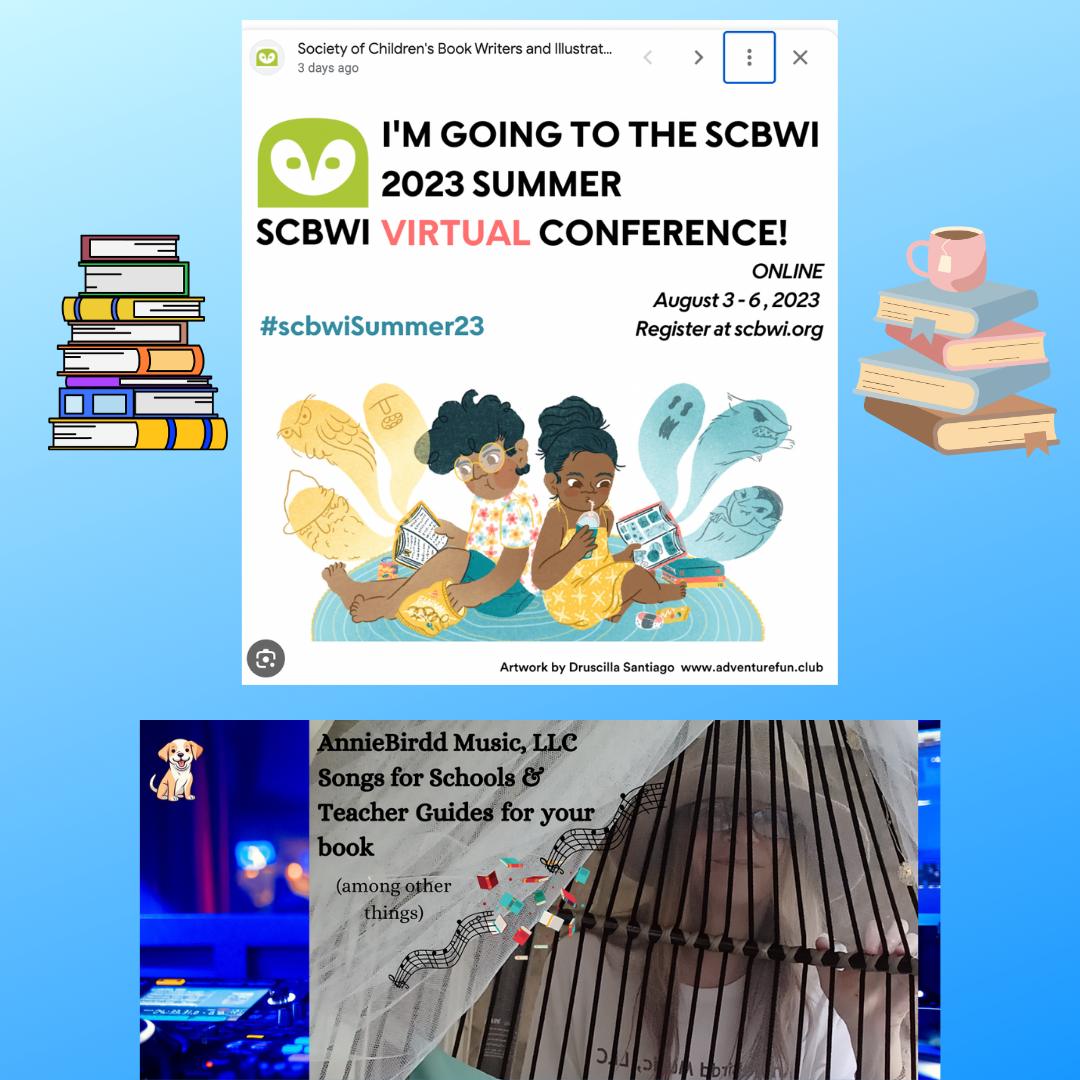 I ATTENDED THE SCBWI SUMMER '23 CONFERENCE on Aug 4 & 5, 2023
The Conference was wonderful, exciting, inspirational, yet down to Earth and real about everything from finding an Agent, to finding the right Publisher for your Book or going the Self-Publishing route. The speakers were expert in their knowledge, compassionate and often relatable. The information handouts are comprehensive and the ability to go back and watch what I wasn't able to attend (we chose 4 Breakout Sessions) is invaluable. 
I also heard many statements that reinforce what I'm doing, and why I am doing it.  I even got the answer I hoped to hear…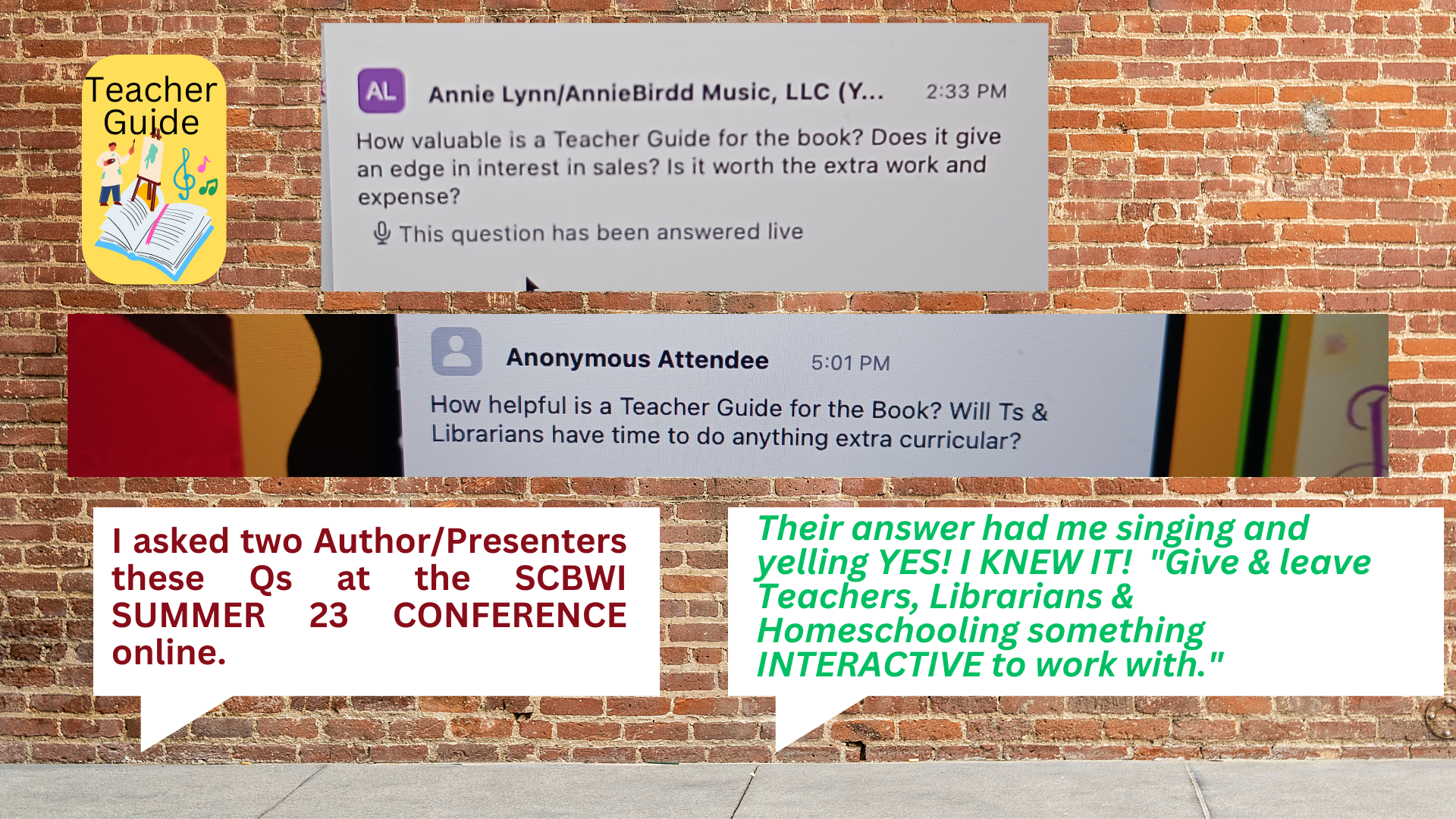 2022
Fall 2022:
SOOOOO much going on!
* It's Back to School, we're working on new songs, recruiting children to sing in the next month in a converted sunroom recording studio. The set up is wild and fun, and will keep the singers and the sound engineers safe, and germ free. And my puppet troupe of over 100 puppets can STAY!!! They soak up the sound and help deaden any echoes.  The kids chorus loves playing with them, and it keeps them from getting too nervous. They often ask to sing to them.
* We finished STORYSTORM 2022: The Musical Edition/Song #3. The song is called "A THING CALLED KINDNESS" It was based on 13 picture books, all depicting kindness in some way. Illustration for the album cover art for the single, was licensed from Maple Lam.  It will be used for digital distribution, as well as for social media for Radio and Podcast.  Find  more of Maple's lovely work at www.maplelam.com
 A THING CALLED KINDNESS was recently featured in Eastern Penn Points, the Bulletin of the SCBWI-EastPA: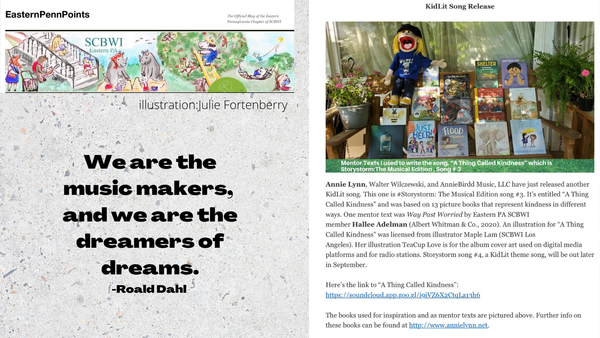 Here's the link to listen to A THING CALLED KINDNESS
This is the beautiful illustration I chose to license....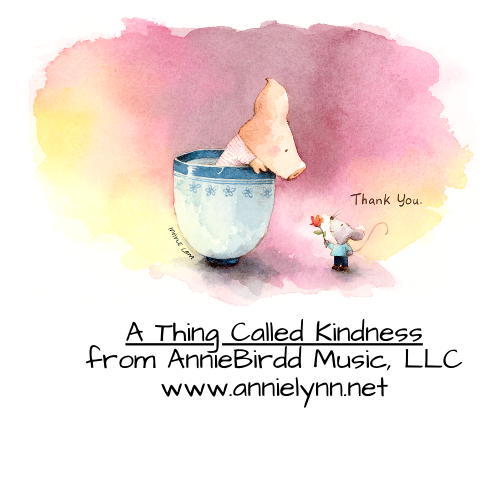 We wrote the theme song for the Nonfiction Minute Podcast.  Here is a little info about the Podcast: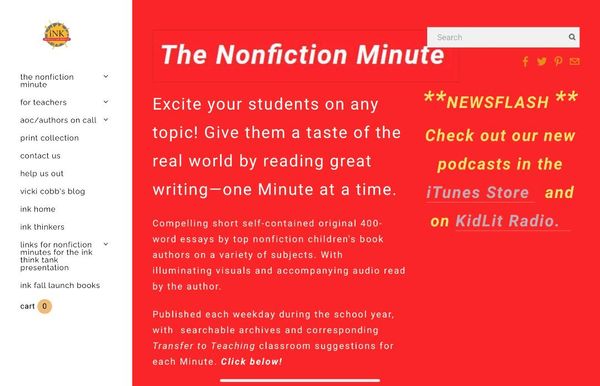 And this is the promo for the Non Fiction Minute using our Theme Song...
FOR MORE INFORMATION ABOUT THE NONFICTION MINUTE,  CLICK HERE!
* IT'S ELECTION SEASON. We've released our Non Partisan Voting Song, for schools and homeschooling to perform. These kids know that voting is an important right granted to adults, and they want us acting on their behalf now. The only way for that to happen is for people to vote. This is the music video for GO OUT AND VOTE(YES YOU!!!)
Summer 2022:
We've accepted our next Kidlit song commission. The popular commissioning Author is writing the lyrics, while AnnieBirdd Music is currently researching rhythms and instruments for the right sound to involve all who listen. Late Summer release expected.
We are finishing mixing STORYSTORM 2022:The Musical Edition/ Song #3, based on a sampling of books on the topic addressed, in both the book and song. Release soon.
NERD CAMPS ARE NERD-TASTIC and Magical.  It's an intersection of Authors, Illustrators, Librarians, Teachers, Homeschooling, Parents and at least one Kidlit Songwriter, all gathering together online (and some IRL this yr) to discuss relevant hot topics in books for kids and young adults. I always come away from these meetings and breakaway sessions feeling energized, and ready to work with more people devoted to kidlit.
This year's NerdCampt CT was just as good as previous years, and very well organized. Looking forward greatly to attending NerdCamp PA coming up this month.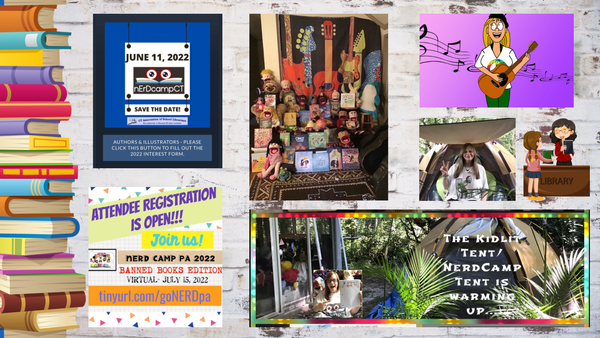 Late Winter 2022: 
*  Announcing the premiere of the commissioned PBJamz Theme Song, co-written with Music Teacher/Author Tonnye     Fletcher. Below is the perfect illustration for the show, by Illustrator Allison Strick.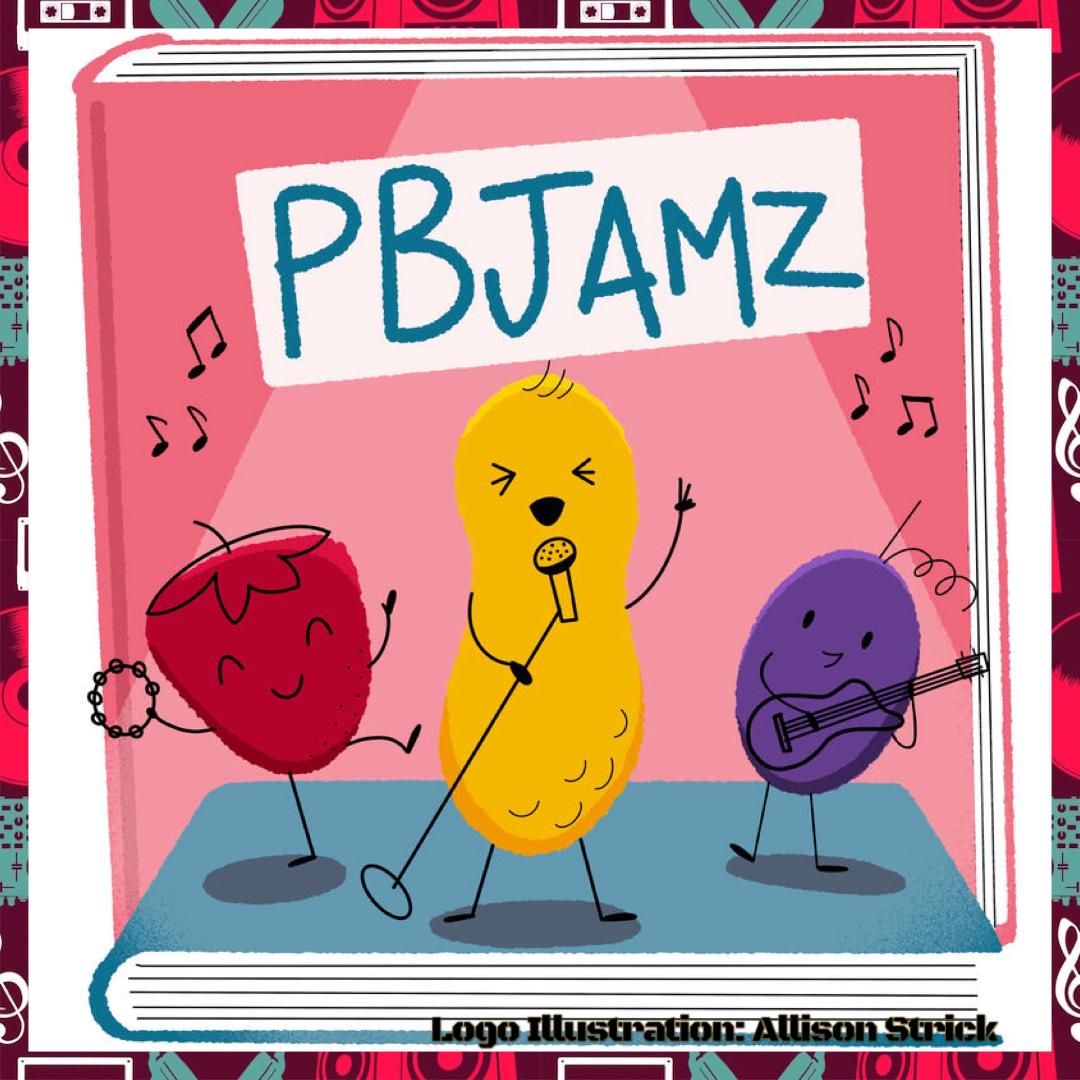 WHAT IS PBJamz you ask???
In the words of Tonnye Fletcher, Host of PBJamz, a video show: 
"  ...It's designed to be a fun show/blog/social media explosion celebrating the connections between music and picture books in all its forms.  My hope is to provide lots of content that will be beneficial to authors who wish to integrate musical themes into their picture books, to readers who are looking for excellent picture books with musical content, live performances of music relative to kidlit, tips for classroom teachers and music teachers to use these musical gems with their students.  For parents, I hope it will be a place you can come to find great picture book recommendations with musical themes or elements.  My dream is to build a connected community around these things that I love so very much: reading, writing, teaching, and music.  However you fit into that collective, welcome to PBJamz! "
I've been excited to find kindred spirits among the Kidlit and Teaching communities, as both a guest and a viewer of the show. Tonnye has done ALL the work for Teachers & Families. The guests also contribute excellent extension activities. She even has Recipes!
Listen here to the PBJamz Theme Song, featuring accompanying vocals  by Tonnye Fletcher. She does it all.
ALSO.....
* The second song created as a result of STORYSTORM '22 (the musical edition) was inspired by the creator of STORYSTORM, Tara Lazar. Her book ABSURD WORDS left me with a lot to think about. Is a large vocabulary necessary? Is it beneficial? And WHY are there so many absurd sounding words, many which I've never heard of? It all came spilling out and into a STORYSTORM ode called "We Love Those Absurd Words." Listen at the end for a guest appearance by Tara!
LISTEN HERE:  "We Love Those Absurd Words"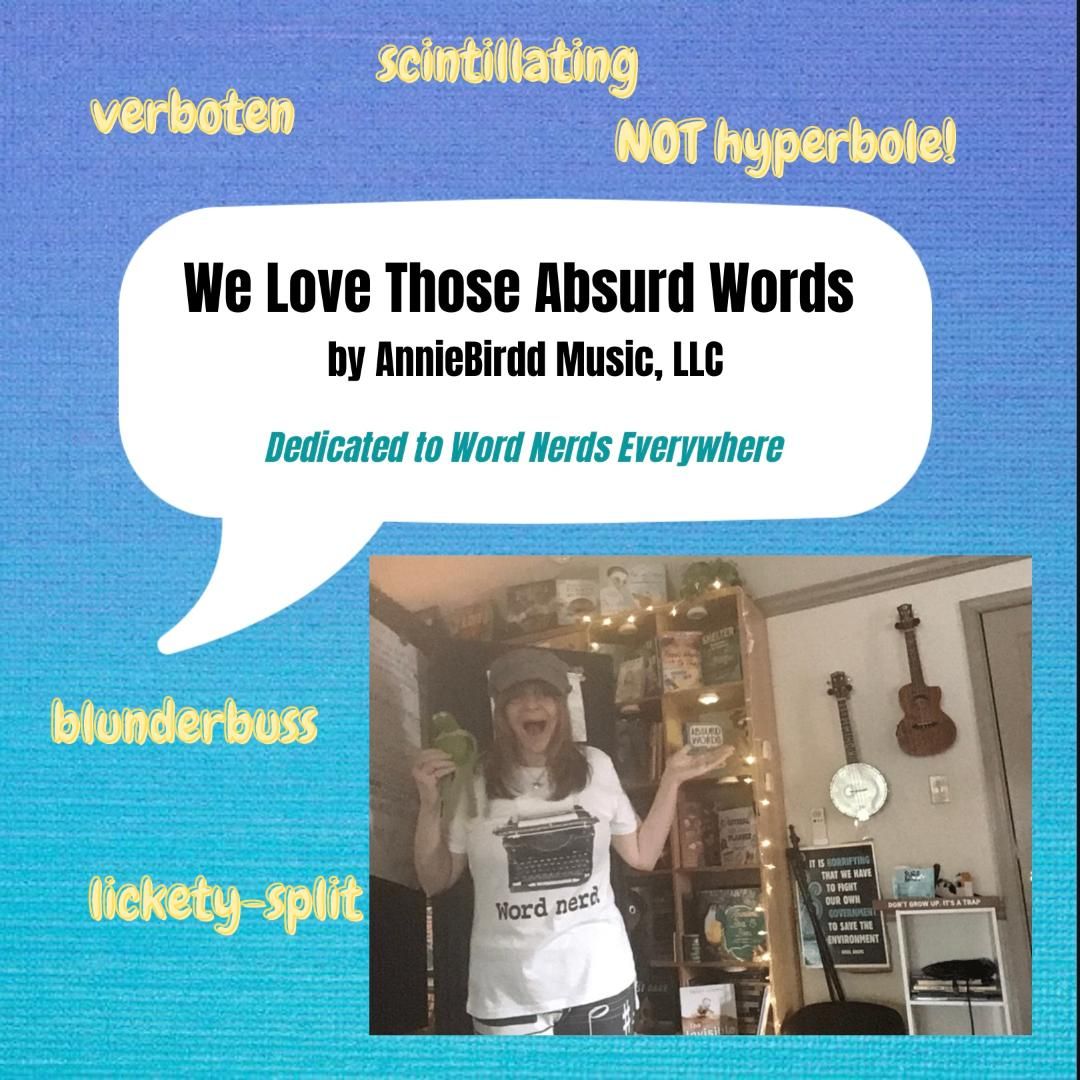 Early Winter 2022: 
* We're finishing recording our next Commission for a Kidlit Theme Song for a video program featuring the intersection of Picture Books, Music, and Music Education. The show and theme song air late February, 2022, according to show's Hostess.
In other exciting news.... I SURVIVED STORYSTORM 2022: The Musical Edition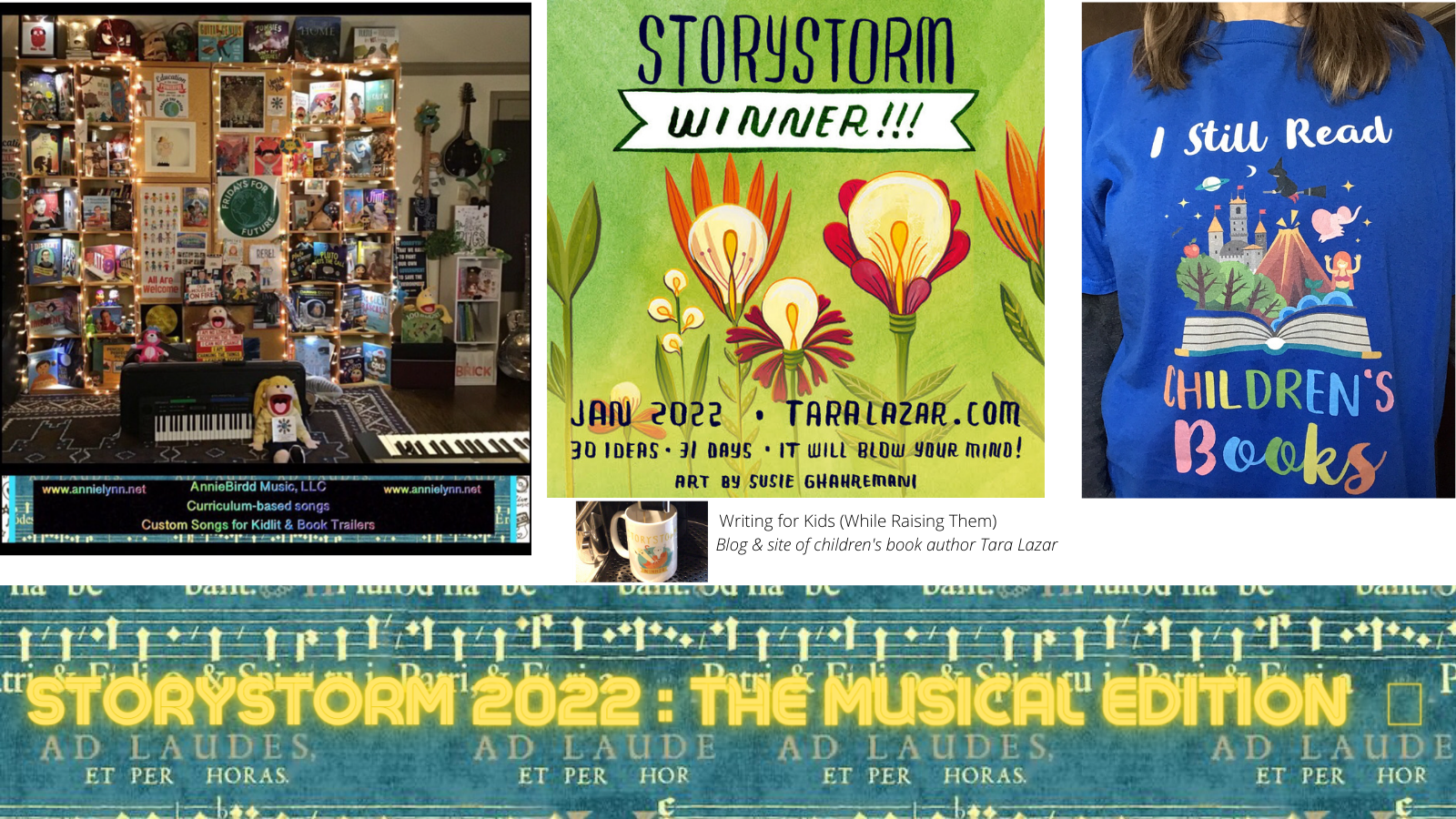 *  STORYSTORM '22: The Musical Edition.      Using 40+ Kidlit mentor texts, I came up with 30 ideas/starts for songs to go with books based on theme/subject. Thanks to the writing community for enthusiasm and support, and especially thanks to Author Tara Lazar for her wisdom, support, leadership and encouragement. Get ready for some great demos all!
We will be recording small clips of demos of some of these songs, with two full songs expected as a result of Storystorm.
EARTH HOUR SONG UPDATE FOR 2022:
Our music video for "It's Earth Hour" was viewed by over 4.6 Thousand viewers from all over the world. Youtube won't let me see all the countries that viewed it, only the top 20. Even seeing 20 countries participating in Earth Hour and singing along with our song was very, very exciting, hopeful and satisfying. We hope those that participated in Earth Hour will continue to find ways to repair the Earth every day.
* THE NEW 2022 VERSION OF OUR MUSIC VIDEO "IT'S EARTH HOUR" is now up on my Youtube channel. I discovered a great new resource for Teachers, Homeschoolers, Librarians and more, for STEM and STEAM related videos. They were kind enough to allow me to include their Earth Hour graphic at the end of the music video. Check this valuable resource out at:
It's our hope that this video will be shared far and wide, and that people will use it for non-commercial purposes, to increase awareness of Earth Hour.
PRESENTING: "It's Earth Hour" 2022 Edition Theme Song
* January brought with it the TENTH Multicultural Children's Book Day, January 28, 2022. This celebration is lovingly held by an organization whose mission is to "not only raise awareness for the kids' books that celebrate diversity, but to get more of these books into classrooms and libraries." - MCBD Website. Make sure to check out all the books that have been recommended by Librarians, Teachers, Students, Homeschoolers, Parents & Good People who Love to Read Diverse Books!
I also received a lovely message from one of the musicians (Jay Ansil) who played on the Multicultural Children's Book Day Theme Song we wrote 3 years ago....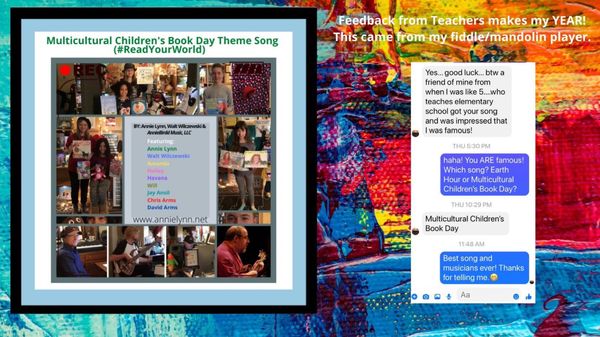 If you'd like to hear the theme song, please sing along and get ready for next year!
Multicultural Children's Book Day Official Theme Song
2021
Fall & Winter 2021: 
* We accepted another Kidlit commission in late November, and it will be released in February, I understand.
* We are recording a different new song, based on the theme of a Kidlit book. Also due out in February.
* Education keeps calling me back one way or another.....I have been attending numerous professional workshops with some of the following groups:
What is edWeb? From their website: "edWeb.net is an award-winning professional learning network that makes it easy to collaborate, engage in peer-to-peer learning, and share innovative ideas and resources. Our edWebinars provide anytime learning with CE certificates for your PD hours!"
Some webinars included:
- SEL Themes (body autonomy, bullying prevention, kindness)
- Language and Literacy Development for a New Generation
- Neuro divergence in Education
I look forward to this programming regularly, and am grateful for the expanding education updates and recommendations. I apply much of what I learn to writing songs for children.
I've taken many webinars/workshops, both free and paid, by the Society of Children's Book Writers & Illustrators. Their presentations, including the regional branches, find the best talent, showcase it, and also give guidance. Some themes presented were:
- Opportunities in Nonfiction: A Vast, Vibrant Genre from Board Books to Middle Grade
- Kidlit Comics Club
This is an outstanding place to learn about writing...all kinds! Some of the workshops I attended recently were:
- The 5 Kinds of Children's Non-Fiction
- Writing About Difficult Topics in History
- Meaning and Music: Writing Picture Books that Sing
- Why Back Matter in Nonfiction MATTERS!
Summer 2021 Update:
My first kidlit commission was from Author Patrick Adams. Patrick has since gone on to write some of his own songs, and he also started a family podcast about Kindie Music. I was honored to do four interviews with Patrick about all the book songs I wrote and they will be aired on a Pittsburg radio station, spread out over time, then available for replay on several media platforms. The first is now available....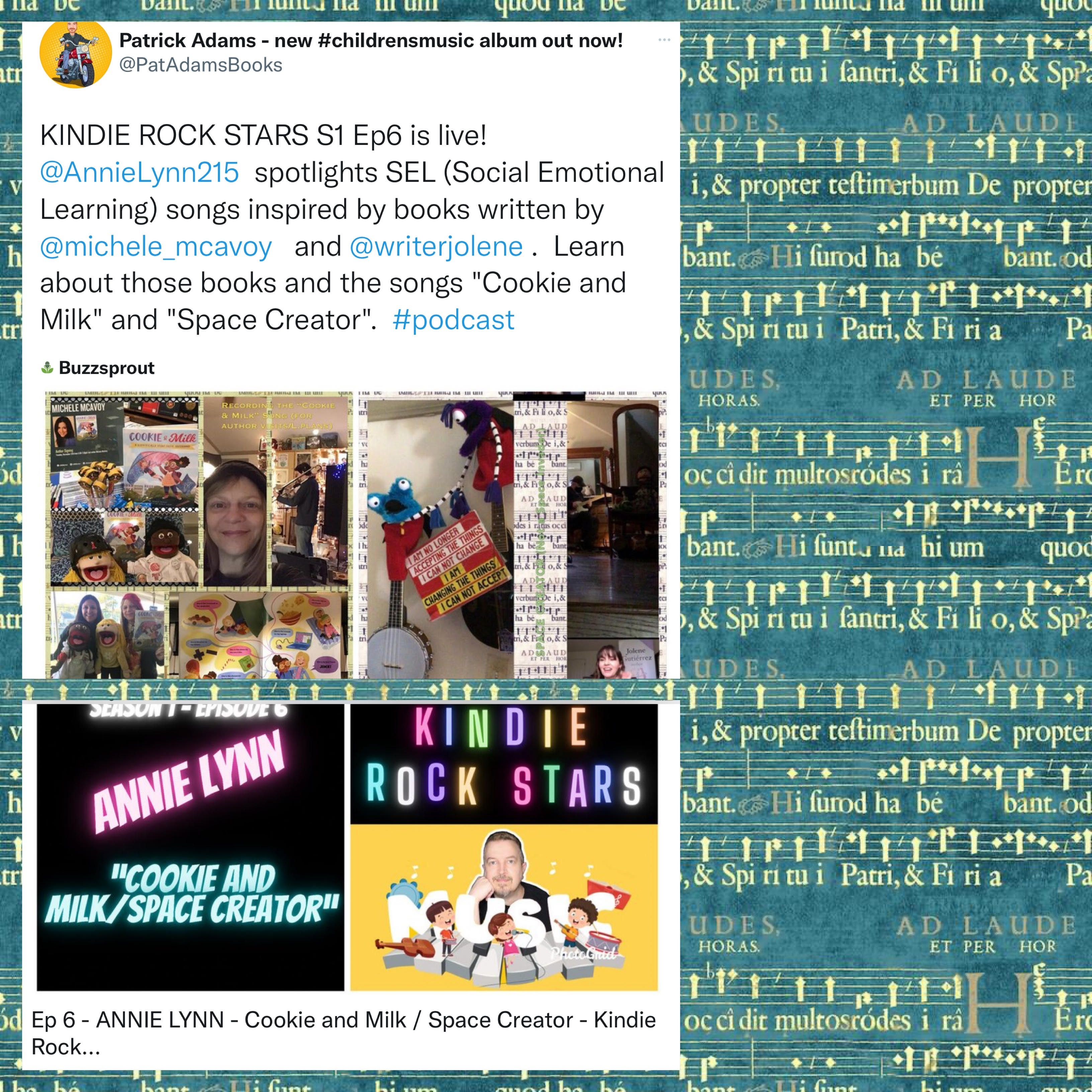 Click to listen!: Patrick Adams' Kindie Rock Stars (Feat. Annie Lynn)
Recently, one of my co-writers, Author Dawn Prochovnic shared a tweet with me that made my heart sing...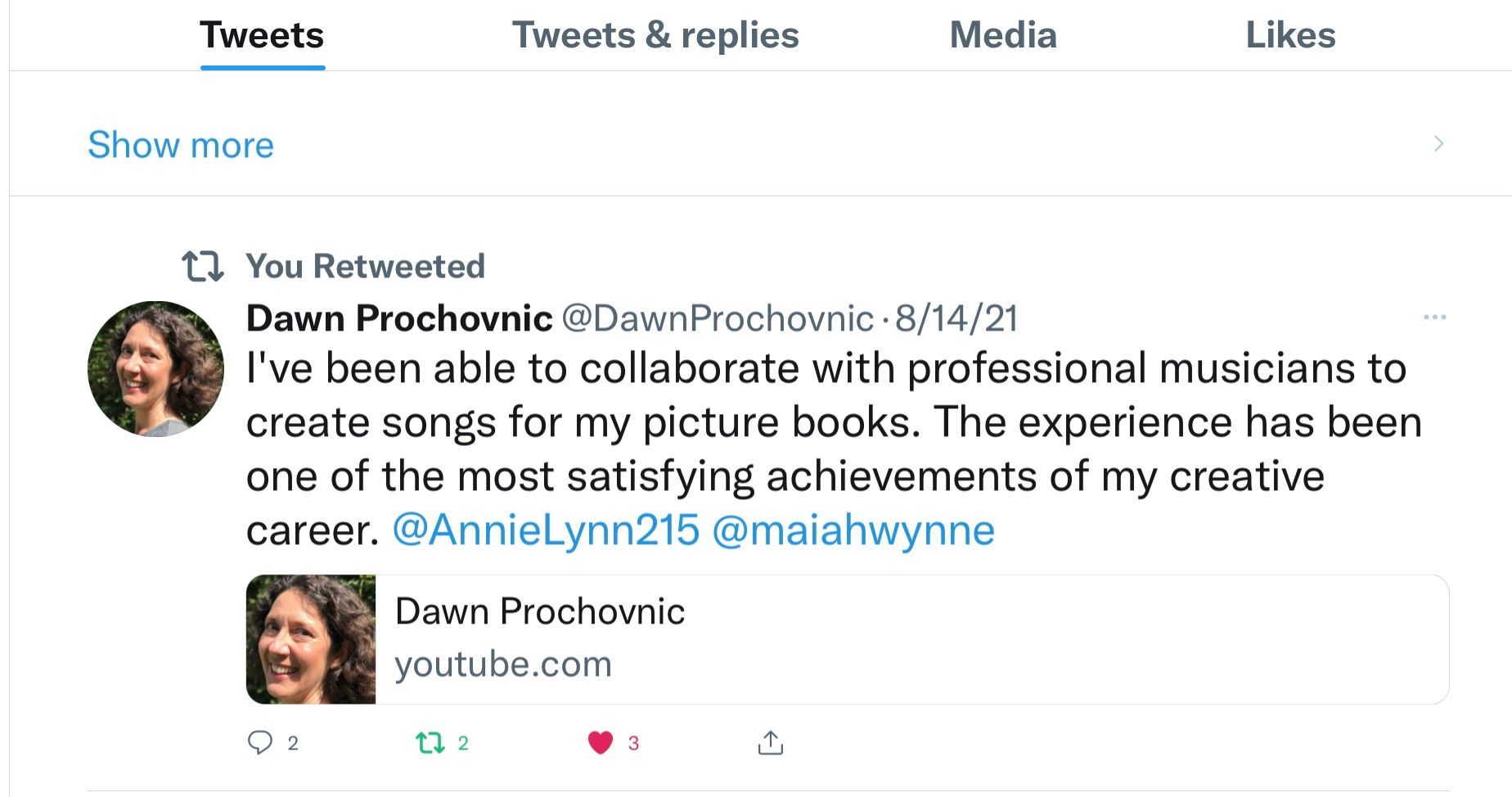 Summer 2021:
While most students and teachers are enjoying summer vacation here in the USA and other countries, I have gone back, virtually, to "school" for all practical intents and purposes. I have attended a dozen SCBWI writing and researching workshops, as well as the three day SCBWI Summer Conference. I attended a writing/research workshop from The Writing Barn, and a powerful symposium by the Urban Assembly on the use of SEL (Social Emotional Learning), and all the different subjects and applications that it compliments. 
I had the exciting pleasure of attending TWO NerdCamps! NerdCampCT and NerdCampPA. It was an online gathering of Teachers, Librarians and Media Specialists, Authors and Illustrators. Breakaway sessions revealed beyond a doubt (and some agreed or said this on their own).....MUSIC COMPLIMENTS KIDLIT.  Both camps were EXTREMELY organized and well run.
One of the highlights of the summer was the STEM TEACHER SUMMIT, also known as "The Heart of STEM with       Carly and Adam."  The panels were filled with multitudes of current and needed information on ways to incorporate STEM/STEAM into most areas of children's studies. Of course, I came away with a cornucopia of song topics. One of the best parts of the summit, is that we can go back and watch the presentations again, or the ones we missed due to scheduling conflicts, and we were given a whole year to view them!
I also took a six week class through The Casting Call Club on Music Composition for New Media, including video games and film. I learned how to use some of my newer equipment, how to layer tracks better (when I am on my own without engineer). I really enjoyed learning more of the tech involved in big-production composition, and the teacher was great.
I continue writing music with my husband Walt, and our friend/Engineer Chris Arms. We are set to record our holiday song in early September, and also look forward to the re-release of our multi award winning song "NEW SCHOOL."
Just for fun, here's the link to New School, burping included.....don't ask.
. 
March 2021:
Release of NEW SEL (Social Emotional Learning) SONG, co-written with Author/Librarian Jolene Gutierrez called SPACE CREATOR. This song was written as a result of being paired with Jolene in the Fall Writing Frenzy, sponsored by authors Kaitlyn Sanchez and Lydia Lukidis.
Here's the premiere of the music lyric video, featured in the blog of Author Lydia Lukidis.  https://lydialukidis.wordpress.com/2021/03/31/fallwritingfrenzy-finale/ 
January, 2021:  We did it AGAIN! AnnieBirdd Music, LLC competed against itself for a second month in a row, and entered Zombies Don't Eat Veggies (Studio Lacera/AnnieBirdd Music, LLC) and "I Believe In You" in the Funky Kids Radio Awards for Song Of the Year. Song was selected by popular votes. While we did not win the song of the year, we now will enjoy radio and internet radio airplay in AUSTRALIA! YAY. We have several songs already being used in Australian schools, so this new exposure makes us "chockers" with excitement and pride. You can find Funky Kids Radio (VIA Music Matters) online at: http://www.musicmatters.org.au/funkykidsradio/
ALSO IN JANUARY 2021:
I SURVIVED "STORYSTORM: The Musical Version"
I used over 30 "mentor texts" to help me craft ideas, and bits and pieces of songs that could potentially accompany the books' teacher guides. One of the songs that I wrote, was co-written with the author and we are recording the song soon.
2020
December, 2020:  What a great way to end the year. We received the Finalist Award in the Mid-Atlantic Song Contest, for our song with Jorge and Megan Lacera of Studio Lacera. The song is "Zombies Don't Eat Veggies" from the award winning book of the same name. 
In other news....the day after I got my email from the MASC about being a Finalist, my husband, also a songwriter with a different last name, found an email informing him that he was the OTHER Finalist in the competition. We couldn't stop laughing. The song we wrote (Walt was lead writer) "Is That You Randy?" was the name of the award winning song. I have competed against myself before, but never my husband. In reality, we are a team.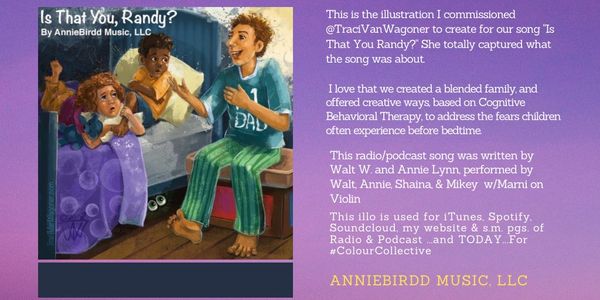 Illustration above for "Is That You Randy" by the fabulously talented Kidlit Author/Illustrator Traci Van Wagoner.  Find her at Traci Van Wagoner Website 
November, 2020: STILL TOP SECRET 
October 2020: TOP SECRET 
September, 2020: In a weird and wonderful turn of events, two of my kidlit clients highly recommended me in an interview. Not only was I tickled by their comments, but it meant everything to know we were able to interpret their story into a song that made the book become an "immersive learning experience," as another client, Author Megan Lacera called it.  
 Here is the Link to the interview on the blog of  Author Dawn Prochovnic
NEW KIDLIT SONG RELEASE!!! 
LISTEN TO "THE BEAR AND THE PIANO SONG" 
By Annie Lynn with lyric & performance contribution by David Litchfield, Author/Illustrator/Teacher 
BLOG FEATURE ON RHYSKELLER.COM  
WE were also featured in one of my favorite Kidlit/Business/Life Advice Blogs by Rhys Keller. In the last six months, I have gained an incredible amount of personal insight, and sound marketing and organizational advice from Rhys's blog. I'm grateful to have found his blog, for authors, illustrators, parents, teachers, librarians and business entrepreneurs.   Here is a link to the blog, with the release of THE BEAR AND THE PIANO SONG, and a lesson on why music and theme songs are important in branding.  I loved being part of this sociology and business analysis! Thanks Rhys! 
 READ THE BLOG BY RHYS KELLER HERE: W/SONG DEBUT! 
The Kidlit commission we wrote last month has been released, and it's for none other than ABIGAIL THE STORY TELLER. If you haven't heard her yet, go check out all the stories she reads and acts out. We can't wait to see what she will do in the coming years! She is wonderful.  Here is the song with more info on Abigail The Story Teller..... 
ABIGAIL THE STORY TELLER THEME SONG (click on link) 
August 2020: 
We recorded our latest Kidlit Commission for a teen Youtube Storyteller. She is wonderful. Song premieres on her channel and on social media, first week of September. 
Attended weeklong webinar on Reinventing Author Visits. I may be performing for and with Students, online, with Authors/Illustrators if I can get the hang of Zoom.  
Also enrolled in an online, six week course, through THE WRITING BARN (TX). The topic is WRITING FOR THE EDUCATIONAL MARKET. I am learning lots, and homework is writing songs based on examples we study in class. It's hard work, but worth it. And I am SOOOOO glad I am not the Author! I'll stick to music, thank you. 
We set up the GREEN SCREEN STUDIO & LIGHTS. New puppets have been logged in, most named, and personalities developed. They will be starring in a new online show, filming to begin late September. 
BIG HIGHLIGHT OF THE YEAR...... Attended the SCBWI Summer Spectacular. This was organized so well, and though held online (Zoom), it actually felt like an intimate gathering. I learned from editors, publishers, authors, illustrators, agents, teachers, librarians, media specialists... the list goes on. I was floating by the end of the five days, with new friends made, and new ideas racing through my musical mind.  I even wrote a folksong about my experience. One day I will share it. It's funny. 
July 2020: 
Highlights included multiple webinars, free and paid, on the subject of Children's Literature. 
Attended TWO NerdCamps! NerdCampCT and NerdCampPA. It was an online gathering of Teachers, Librarians and Media Specialists, Authors and Illustrators. Breakaway sessions revealed beyond a doubt (and some agreed or said this on their own).....MUSIC COMPLIMENTS KIDLIT.  
We accepted another Kidlit Commission, a theme song....for a special young Youtube Kidlit Storyteller. We begin work soon, and will be finished early August. It will be aired first week in September. 
June 2020: 
HAPPY PRIDE MONTH 2020! 
Six years ago, something in me snapped, after seeing several stories in the media. Young children around 9-11 years old, being bullied by their peers for embracing non gender conforming practices, like a female who likes to wear boy clothing, cut her hair very short, likes to wrestle, go fishing...etc...or a boy who like to wear a My Little Pony Backpack. The backlash against just these two visible stories of DISCRIMINATION was swift and harsh, but did little to change the climate of intolerance. 
The thing was, these were little kids, with time to figure out their identities, but instead, some of society, many close to them, were telling them they were "wrong" to like the things they liked to do and wear. They felt shame, and both schools allowed the discrimination and did nothing until the media called them out, forcing them to do something. One was a public school, that had told the parents "Maybe your son could not wear his My Little Pony backpack to school so he won't be picked on." The bullies were not disciplined until after the media shamed them.   The other school was a private religious school, and were allowed to discriminate, telling the guardians "Maybe she would be more comfortable at a public school next year?" That was it. I cried, I yelled, and I did what I always do when I am happy or mad.... I wrote a song about the problem. But I didn't want it to be a song of negativity. I wanted it to be an identity song, one that the whole school learned and sang to each other AND THE GROWNUPS OF THE WORLD! 
I still feel that if children are raised in an environment of acceptance, understanding, welcoming differences and honoring them for everyone, that they retain these ideals and values. They will KNOW when they hear hatred and bigotry and fear, and call it out & stand against it. When people sing together, it brings them together. 
I also work professionally, recording with several children I know to be questioning, so this song was even closer than media stories. 
I have only heard from 4 schools and one CHURCH choir, that they were using this song, and my heart fills with joy and relief knowing this. I don't know how many other schools or homeschoolers have used this song, as it is one of the songs from our award winning CD "No Time For Hate and Other Songs for Schools" available on Songs for Teaching website: 
WHO I AM on No Time for Hate and Other Songs for Schools 
ALSO: This song comes with printed lyrics and a practice video, scored with 5 part harmony in spots. Here is the full song as a practice video. Students listen ahead of time, and then practice in school. SAVES MUCH TIME LEARNING!!! (I found that out quickly!)   SEE BELOW! 
Special THANKS to illustrator Rob Sayeh Jr. https://www.robsayart.com/ who licensed this illustration to us for the CD Single on media platforms such as iTunes, Soundcloud, Spotify, etc., and also to be used by RADIO and PODCAST for their social media feeds as the song is being played on air. 
Here is the song and design on Soundcloud: https://soundcloud.com/annie-lynn-6/who-i-am
May 2020: 
Until the end of June, 2020, I will have the songs on this website streaming fully. The intent is for Teachers, Students and Parents to listen to these songs. Many of them are on my youtube channel, with lyrics, and the whole class or school can learn the same song to sing. HOW ABOUT A ZOOM ASSEMBLY WITH SINGING? 
IT'S HERE! IT'S ALIVE! 
We released our latest kid lit commission and can now reveal all (Why do book reveals take so long compared to Radio?....boo hoo....) 
AnnieBirdd Music, and Studio Lacera (Megan Lacera and Jorge Lacera) released the OFFICIAL THEME SONG OF: ZOMBIES DON'T EAT VEGGIES! (published by Lee and Low Books) The song was featured and premiered on Tara Lazar's Blog "Writing for Children While Raising Them." Here is the interview with AnnieBirdd Music, LLC and Studio Lacera  (CLICK ON LINK IN PHOTO!) 
ALSO: Listen to the new Zombies Don't Eat Veggies Theme Song on Tara Lazar's blog  
AND:  Find this song, now on the Lee and Low Books website, as part of the Teacher Guide that comes with the book.    https://www.leeandlow.com/books/zombies-don-t-eat-veggies 
Here are some photos of the process, including our sound engineer coming over and using our decon'd outdoor sunroom which we converted to our new mixing room and summer office. Studio still in use, but the puppets miss the kids. Me too!!!  
April 2020: 
This has been an incredibly fun month! We finished our kidlit commission. The release date is May 5th, on Cinco de Mayo. It will be released on Tara Lazar's Blog "Writing for Children (while raising them)"  We also accepted a longterm #kidlit commission to use in schools. 
March 2020: 
We are working on our newest Kidlit Commission, for a book that has been having great success, with multiple printings in several languages. This is our most challenging commission yet because it involves a new genre of music we had experimented with, but not yet used in a song. It's sounding so good, and should be ready in early April. The Author will use it for school visits, possibly another book trailer, media placement, and again, we wrote this song so that it could stand alone as a radio song as well. 
* This song is the second STORYSTORM 2020 commissioned song we did... due out April 2020. 
February 2020: 
NEW COMMISSION!!!  
We had such a fun time recording the new song we co-wrote with Author Michele McAvoy for her newest picture book with Illustrator Jessica Gibson, published by Cardinal Rule Press. The book is called "Cookie & Milk:  A Scientifically Stunt-tastic Sisterhood" and is a STEM book for both girls AND boys.  
This song was written to go with the lesson plan for Cookie & Milk. Teachers/Homeschoolers can use this song in class, or at an assembly with the author. They listen to the song before author visit, and are able to sing this easy "CALL & REPEAT/RESPONSE" song when she visits schools. 
FYI - This was the FIRST SONG I WROTE FOR STORYSTORM 2020! Double Prizes! 
We had the great luck to hire a trombonist from the West Chester University (PA) Jazz Ensemble, to add an extra layer of excitement to the song. He killed it. This song can actually stand alone as an unrelated song, giving it the potential of being a radio song as well..... 
Here is the song, and a photo including the recording session. This link takes you directly to the author's lesson plan on her website......COOKIE AND MILK: THE SONG! By Author Michele McAvoy and AnnieBirdd Music, LLC 
   I SURVIVED STORYSTORM 2020!!! 
I'm very proud of myself for maintaining the discipline needed to complete 30 songs ideas in 31 days. For me this was not just a learning exercise, filled with great blog post suggestions on Tara Lazar's blog, but it expanded my interests, confirmed my strengths, and we ended up with TWO Kidlit song commissions. Thank you Tara for all your guidance and for being a champion and mentor of Children's Literature. 
January 2020: 
Guess what I'm doing in January? STORYSTORM, a challenge by Author Tara Lazar, I have to come up with 30 ideas in 31 days for a kidlit book. I have taken this challenge on, and have renamed for my purposes: STORYSTORM 2020: The Musical Edition 
I am very excited to see what I can come up with, and actually looking forward to the discipline of sitting down daily, whether I am feeling creative or not, and just working....allowing it to flow. NO JUDGEMENTS (right!) just ideas for the future. I will be making up melodies to go with picture books already released. Goodbye Free Range Annie and her "I feel a song coming on" writing style, lol. 
ALSO: 
January 31st is MULTICULTURAL CHILDREN'S BOOK DAY! The music video we made with Author/Co-Founder Mia Wenjen (The Pragmatic Mom) turned out wonderfully with a huge sampling of diverse books. Children are seeing their lives reflected more and more and it's a beautiful thing.  Can't wait for the Twitter Party with all the good book reviews. 
AND FINALLY......... 
We wrote the theme song for the "KIDLIT BITs" segment of the "My Messy Muse" Podcast with Author Michele McAvoy.  It turned out really well and Michele says she can't stop singing it. So much happiness in 25 seconds. 
Here is the first time the song was used...... THANKS MICHELE FOR THE KIND WORDS IN INTRO! 
KIDLIT BITS - A SEGMENT OF MY MESSY MUSE PODCAST
2019
December 2019: 
Just finished making the advertisement for MULTICULTURAL CHILDREN'S BOOK DAY 2020, featuring the Theme Song we wrote.  This year's theme is "Physical and Developmental Challenges:Understand and Celebrate Our Differences." 
If you'd like to be part of this music video, and share your book recommendation, please contact me through this website. 
November 2019: 
 What a great way to start out November. I attended SCBWI-Eastern PA's Fall Philly Conference. Standouts for me were presentations on Writing for the Educational Market as well as an outstanding presentation on Marketing Your Book. 
October 2019: 
Attended the Chappaqua Children's Book Festival in New York. Got to meet some previous clients that are now friends, and also to meet some of the authors and illustrators that have given new life to Children's Literature, a new DIVERSE life... This was one of the best run book festivals I have ever attended and the speakers were interesting and knowledgeable. 
September 2019: 
* Our book trailer with song, with Author Dawn Prochovnic, Jacob Souva & West Margin Press is now featured  and then on permanent display in Kidlit TV's Book Trailer Section. Here's the link... 
https://kidlit.tv/2019/09/where-does-a-pirate-go-potty-book-trailer/ 
ATTENDED THE SCBWI HOUSTON CONFERENCE - I came to meet up with friends and also some future clients. I learned how to become a better songwriter just by listening to the advice given by the panelists. I learned a great deal about the kidlit publishing business, and had a wonderful time learning and socializing. This was a very well  put together conference. 
* PODCAST APPEARANCE: My son Alex W., (Star of Where Does A Pirate Go Potty song) and I enjoyed a playful chat with Author Michele McAvoy, on her podcast MY MESSY MUSE. Here's a link to that interview where Michele points out to listeners all the ways that music can be used to personalize Kidlit and make it more compelling to the reader... 
http://www.michelemcavoy.com/podcast/2019/9/22/my-messy-muse-episode-30-interview-with-anniebirdd-music-kidlit-music-artist 
August 2019: 
IT'S OUT!!! WHERE DOES A PIRATE GO POTTY? Here is the book trailer with the song we wrote with Author Dawn Prochovnic, and the animation for the book trailer done by Illustrator Jacob Souva, published by West Margin Press. It turned out beautifully. If you want to see this funny book trailer, as well as be entered to win a free book or manuscript critique by Dawn AND a free copy of our CD "No Time for Hate and Other Songs for Schools" head over to the blog of Author Tara Lazar, where she was kind enough to premiere the book trailer and interview Dawn and me. 
HERE IS THE LINK TO TARA LAZAR'S BLOG: 
https://taralazar.com/2019/08/27/where-does-a-pirate-go-potty-trailer/ 
AnnieBirdd Music, LLC has been on a recording binge all of August. We are back to finishing our Climate Crisis Anthem, to be given to schools and Climate Strikers to sing at protests. The song is based on the words of Climate Warrior Greta Thunberg, as well as students from all over the world, who carried signs of warning and hope. Kid singers come in this weekend! 
COMMISSION ALERT: We are writing a book trailer and school visit song for an established Kidlit Author for her upcoming book. This one covers Girl Power, Friendship and STEM. We love the story AND the Author. More to come on this... 
July 2019: 
 We FINISHED our Kidlit Commission for a book trailer song. 
The Author, Illustrator and Publisher loved it and approved it as ready to go. The trailer will be out late August, I think, at which point I will share the secret identity of this multifaceted, talented, funny, kind Author. I could get used to co-writing with Authors. 
Our first singer on our STEM song (Environmental, what else....)put down the lead vocal. She delivered the exact vocal sentiment needed to make this song's purpose clear.   We now send it to the other kids to learn, and in 2 weeks they come to record. I am excited to share it. Looks like some time in August. 
This is from our session.
June 2019: 
*  This is shaping up to be an exciting month already! We began recording our STEM song and now the kids come in to do their parts.  
*  We have accepted our next cherished commission from a talented, funny Author, for their book trailer.
We haven't laughed this hard in a long time. Even our sound engineer who is usually serious let out a big hearty laugh, while in the studio mixing our son Alexander, who is the star of this commission. 
The other day he was looking for the lyrics and called for "The Lyrics Wench." (me) Heavy sigh...
May 2019: 
This was a busy May. We wrote four new songs, all for different markets; one for radio fun, one that is STEM related, and two jingles for CHILDREN'S BOOK WEEK!  They turned out beautifully. I especially love "Tell Me About Your Book" a song that asks, "How was this book written, are the characters real,why did the author write about them," and more. Great song for Authors, Illustrators and Publishers. 
Take a quick listen, you'll be glad you did...
April 2019: 
I just got back from the late March KIDLITCON, held this year in Providence, RI.  It was amazing. Highlights for me included panels on Graphic Novels, First year Debut Picture Books, and STEM/STEAM Stories...how to make them exciting (hint.. many should ALSO include songs). The Hotel Providence was beautiful and a perfect venue for it. My favorite thing though, was meeting all the authors, illustrators, teachers, bloggers and Librarians that I had seen photos of for months, while my husband, Walt, and I wrote the Multicultural Children's Book Day Theme Song and then worked on the music video. They were all charming, generous with their time and advice, and many are funny.  I felt like there were handfuls of people who realized that music and songs, can be an extension of Kidlit. Especially deserving of songs are history books and science and graphic novels. We are working on some of those ideas now. 
Here are some photos from KidLitCon 2019....Reaching Readers
 (0n the way)
March 2019: 
March is one of our favorite months at AnnieBirdd Music, LLC. Every year, we re-release our two Environmental Conservation Songs as a new music video and offer two songs, FREE TO TEACHERS & HOMESCHOOLING for non-commercial use. Link to these complimentary songs are under "Music." 
EARTH HOUR ALERT!!!
COMING MARCH 30th, 2019 
 What are YOU doing for Earth Hour this year. Please watch this yearly music video that collectively, since 2009, has been seen over 20K times in 177 Countries. Is your country in this video???
Children's Music Network (CMN) Rainbow Concert at Springfield Public Library, Springfield, Pennsylvania 3/9/19 
I was pleased to be invited to perform with my fellow Kindie Songwriters at the CMN Rainbow Concert at Springfield Library. A good time was had by all, and the workshop beforehand was wonderful.
February 2019: 
We started February off with great excitement as we shared our "WORLD READ ALOUD DAY" Jingle with Flipgrid, who liked it and shared it with students on that platform. We got some cute thank you messages from students.  Here is the jingle:
February, 2019 is also full of songwriting for both Kidlit and educational songs (STEM/STEAM), as well as some very productive recording sessions so far. Kids come in to record during Spring Break next month. VERY EXCITED! 
February 14, 2019 saw the re-release of the my single "KEY TO MY HEART" featuring my son Alexander, when he was 10. It currently outsells my version of the song, and receives more airplay. I ended up (proudly)having to give him a raise...  I also licensed a design by Artist Marlene Jørgensen (@Vinkelmule) for the cover illustration of the single on iTunes and Soundcloud, as well as for use by Radio shows on their social media. This is the design and song:
January 2019: 
The Multicultural Children's Book Day Theme song has gone live, as of January 3, 2019. It turned out beautifully and was so much fun to write and work on, especially contributing the music for a music video featuring authors and illustrators of multicultural books. Mia Wenjen did a great job on the video.
2018
November & December 2018: 
Late October and all of November have been full of radio play on several different kids radio programs, and three of our songs were featured. I cannot fully describe the joy I get seeing a kid hear themselves on the radio for the first, and every time. It never gets old and is heart swelling. 
SONG ALERT!!! 
AnnieBirdd Music, LLC has been given the distinct honor of writing the Multicultural Children's Book Day Theme Song for Multicultural Children's Book Day on January 25th, 2019. It will be used in a music video done by Mia Wenjen.We are in the studio with a handful of children every weekend between late November to mid December. Song wraps Dec. 19th. Music Video premiere in January, 2019.   We are looking for people to send us photos of themselves or their class or family, holding up a multicultural book. See Below for Details!